Various types of flange facing.
According to ASME B16.5, there are several types of end flange facing which shall be calculated and selected carefully to ensure a leak-free seal.

Figures A and B show the most common flange facing of raised face. 2 mm raised face is regularly furnished on Class 150 and Class 300 while 7 mm raised face is furnished on Class 400, Class 600, Class 900, Class 1500 and Class 2500. Figures C, D, E, F, G, H respectively illustrate the facing type of large or small male face, large or small female face, small male face(on end of pipe), small female face(on end of pipe), large or small tongue face, and large or small groove face. Figure I is the typical drawing of ring joint face which is also a prevalent flange connection requiring a metallic ring either in oval or octagonal shape. In the case of flanges having raised face, tongue, or male face, the minimum flange thickness tf, shall be provided, and then the raised face, tongue or male face shall be added thereto. For flanges that have a ring joint, groove, or female face, the minimum flange thickness tf shall first be provided and then sufficient thickness added thereto so that the bottom of the ring joint groove, or the contact face of the groove or female face, is in the same plane as the flange edge of a full thickness flange.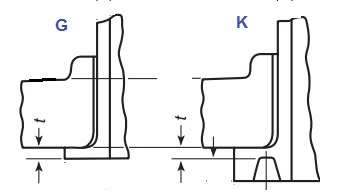 Flat faces are usually used in cast iron flanges such as AWWA flanges in water supply service. However, lapped joint flanges shall be furnished with flat face (FF) as illustrated in figure G and K. The stub ends can be provided with raised face or ring joint face in similar function.
Surface finishes of flange facing.
The raised face or flat face shall be furnished with a serrated concentric or serrated spiral finish having a resultant surface roughness from 3.2μm to 6.3μm. The cutting tool employed should have an approximate 1.5 mm or larger radius, and there should be from 1.8 grooves/ mm through 2.2 grooves/ mm. The side wall surface roughness of the ring-joint gasket groove shall not exceed 1.6μm. For groove, tongue and small male and female, the gasket contact surface finish shall not exceed 3.2μm roughness.