ASTM A182 F5 flanges are forged flanges manufactured from a chromium-molybdenum low alloy steel know as 5Cr-0.5Mo with a UNS designation of K41545. They are widely utilized in pressure high-temperature services such as oil refineries, chemical and petrochemical industries, power plant piping, heat exchangers, and various pressure vessels.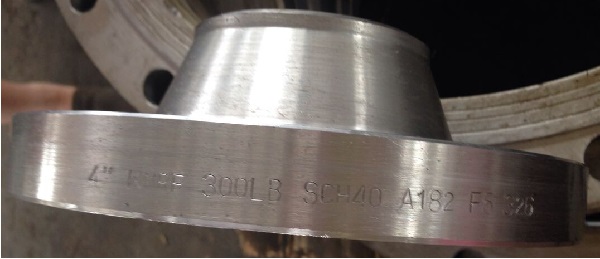 Chemical composition of ASTM A182 Gr. F5
| C | Mn | P | S | Si | Ni | Cr | Mo |
| --- | --- | --- | --- | --- | --- | --- | --- |
| 0.15 max | 0.30~0.60 | 0.030 max | 0.030 max | 0.50 max | 0.50 max | 4.0~6.0 | 0.44~0.65 |
The chromium (Cr) added in F5 not only increases resistance to abrasion and corrosion but also improves resistance to high-temperature hydrogen attack and graphitization. The molybdenum (Mo) content is acting as a grain refiner which enhances creep resistance and high-temperature strength. It also improves resistance to pitting corrosion in many environments. The creep strength of chromium-molybdenum low alloy is derived mainly from two sources: solid-solution strengthening of the matrix ferrite by  carbon, molybdenum and chromium as well as precipitation hardening by carbides. As a result, the creep strength (for 1% elongation in 10
5
hours) of A182 Grade F5 may reach approx. 170 MPa at 450 °C.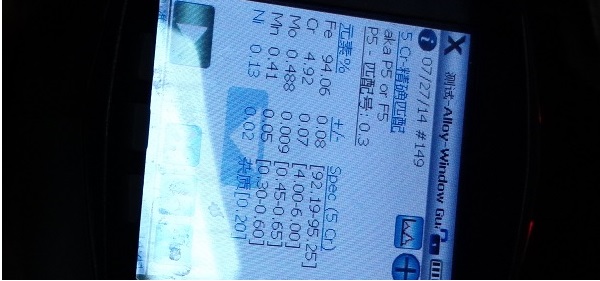 Mechanical requirements and heat treatment.
Tensile Strength,
min, ksi [MPa]
Yield Strength,
min, kis [MPa]
Elongation,
min, %
Reduction of
Area, min, %
Brinell Hardness,
HBW
70 [485]
40 [275]
20
35
143~217
According to ASME B16.5, pipe flanges manufactured from A812 Gr. F5 material shall be normalized and tempered at a temperature higher than 955 °C (1750 °F). The material is permissible but not recommended for prolonged use above 590 °C.
Pressure-Temperature ratings for ASTM A182 F5 flanges.
| Temp. °C | Class 150 | Class 300 | Class 400 | Class 600 | Class 900 | Class 1500 | Class 2500 |
| --- | --- | --- | --- | --- | --- | --- | --- |
| -29~38 | 19.8 | 51.7 | 68.9 | 103.4 | 155.1 | 258.6 | 430.9 |
| 50 | 19.5 | 51.5 | 68.7 | 103.0 | 154.5 | 257.5 | 429.2 |
| 100 | 17.7 | 50.4 | 67.3 | 100.9 | 151.3 | 252.2 | 420.4 |
| 150 | 15.8 | 48.2 | 64.2 | 96.4 | 144.5 | 240.9 | 401.5 |
| 200 | 13.8 | 46.3 | 61.7 | 92.5 | 138.8 | 231.3 | 385.6 |
| 250 | 12.1 | 44.8 | 59.8 | 89.6 | 134.5 | 224.1 | 373.5 |
| 300 | 10.2 | 42.9 | 57.0 | 85.7 | 128.6 | 214.4 | 357.1 |
| 325 | 9.3 | 41.4 | 55.0 | 82.6 | 124.0 | 206.6 | 344.3 |
| 350 | 8.4 | 40.3 | 53.6 | 80.4 | 120.7 | 201.1 | 335.3 |
| 375 | 7.4 | 38.9 | 51.6 | 77.6 | 116.5 | 194.1 | 323.2 |
| 400 | 6.5 | 36.5 | 48.9 | 73.3 | 109.8 | 183.1 | 304.9 |
| 425 | 5.5 | 35.2 | 46.5 | 70.0 | 105.1 | 175.1 | 291.6 |
| 450 | 4.6 | 33.7 | 45.1 | 67.7 | 101.4 | 169.0 | 281.8 |
| 475 | 3.7 | 27.9 | 37.1 | 55.7 | 83.6 | 139.3 | 232.1 |
| 500 | 2.8 | 21.4 | 28.5 | 42.8 | 64.1 | 106.9 | 178.2 |
| 538 | 1.4 | 13.7 | 18.3 | 27.4 | 41.1 | 68.6 | 114.3 |
| 550 | - | 12.0 | 16.1 | 24.1 | 36.1 | 60.2 | 100.4 |
| 575 | - | 8.8 | 11.7 | 17.6 | 26.4 | 44.0 | 73.4 |
| 600 | - | 6.1 | 8.1 | 12.1 | 18.2 | 30.3 | 50.4 |
| 625 | - | 4.0 | 5.3 | 8.0 | 12.0 | 20.0 | 33.3 |
| 650 | - | 2.4 | 3.2 | 4.7 | 7.1 | 11.8 | 19.7 |